This is like the holy trinity for me, Brian Eno, Robert Fripp, and David Bowie. I could never underestimate their impact on me.
My favorite Bowie records are probably Hunky Dory, The Man Who Sold THe World, Low & Heroes. I have a real fascination with the whole Berlin period. All of that cocaine and krautrock really served him well (as did the influence of Eno)
Eno was what made Roxy Music great, and his first 2 solo albums are essential. If I could only have one record, it would definitely be "Here Come the Warm Jets." Pop, glam, and great experimental songwriting. Perfect.
I wrote this song (the Berlin Years)with my friend
"Kevin"
. He sent me a drum track that he had constructed and I improvised all of the synth parts over what he had sent me. In my mind I kept picturing Bowie in the Berlin years, hung over and late for a show. The promoter is freaking out, so the band starts without him and jams on this until he gets there. Since there is no guitar on this, I guess Fripp has been up all night with him as well:
"The Berlin Years"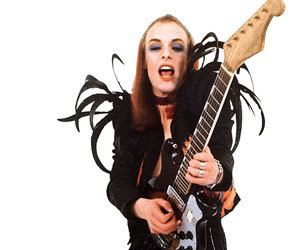 I just love this picture of Eno.